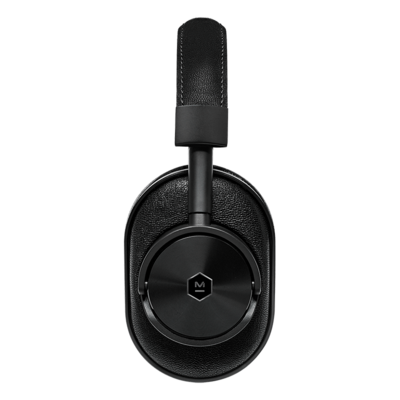 Product Support
MW60
Wireless Over-Ear Headphones
Manuals and Documentation
Hold the slide switch in Bluetooth position for 2 seconds. The light will pulse when headphones are in pairing mode. Access Bluetooth settings on your source device. Locate MW60 and connect. A solid light indicates you are connected. If no connection is made after 10 minutes, the headphone will enter deep-sleep mode. Cycle power switch to awaken.

The ear pads are connected to the headphone via magnets. To remove, gently pull the earpad off the headphone.

To clean your leather headphones, simply use a quality leather cleaning solution. When not in use, keep your headphones in the provided carrying case to protect them from dirt and other substances.

Sound isolation is a passive, physical method of reducing external noise that uses optimized materials and designs to reduce the ambient noise that enters through your headphones. Noise cancellation is an active, electronic method of reducing unwanted ambient sound that adds processed sound to your audio to reduce the perception of ambient noise. Our current headphones achieve very high ambient noise reduction through passive sound isolation techniques, particularly our MW60 and MH40 models with their over-ear design.
Master & Dynamic guarantees this product against defects in materials or workmanship for a period of one year from the date of original purchase on our website or from an authorized Master & Dynamic retailer or reseller.

As an exception to this warranty period, batteries are guaranteed for proper functioning without performance deterioration, for a period of one year from the date of original purchase.

If returned within the warranty period, Master & Dynamic will at its discretion either repair the defective product or replace it with a repaired or refurbished product of identical specifications as the returned product.

This limited warranty is in lieu of all other warranties, expressed or implied, including, but not limited to, any implied warranty of merchantability or fitness for a particular purpose.

Master & Dynamic shall have no liability of any kind for any direct, indirect, incidental or consequential damages or expenses that arise from the use of this product, including use-related damage to the product's exterior.
Master & Dynamic has partnered with Clyde to allow you to purchase an extended warranty with accidental damage from handling protection coverage for your Master & Dynamic products. 
If you have purchased the Accidental Damage Protection Plan through Clyde and are looking to make a warranty claim, click here. Our Accidental Damage Protection Plan through Clyde can be purchased on our website at checkout or after completing your purchase here. For more details on the coverage offered through our Accidental Damage Protection Plan, click here.

Master & Dynamic's Limited Warranty does not cover normal wear and tear to items such as blown drivers, battery degradation from normal use, cut cords, bent jacks, damage to the product's exterior, loss or theft.

Parts subject to wear and tear such as ear pads and cables, will be replaced only in case of malfunctioning due to material or manufacturing defects, and only once during the warranty period of your product.
You will void your warranty if you disassemble your headphones or expose them to excessive moisture.

If you believe your product is defective within the warranty period, please contact us at support@masterdynamic.com. Please include your product's serial number, proof of purchase, telephone number and full return shipping address in your message to us.

Conditional to serial number, proof of purchase, and warranty validity, you will be issued a return authorization and instructions for return shipment.

Please note that the dispatch of a replacement product will only take place after our receipt of the defective product. For questions regarding your product's warranty, please contact Master & Dynamic Support at support@masterdynamic.com.