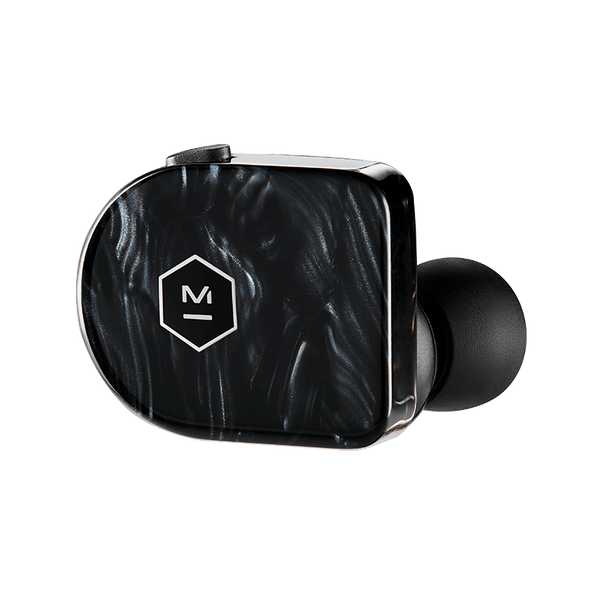 Product Support
MW07 PLUS
True Wireless Earphones
Manuals and Documentation
The first time you take both earphones out of their case they will enter pairing mode. Simply connect through the Bluetooth menu on your device and select M&D MW07 PLUS. To manually activate pairing mode, hold down the multi-function button for five seconds or until the indicator light starts pulsing. NOTE: If you are already connected to a device, remove the earphones from your ears to avoid activating your Voice Assistant.

The charging case lid opens away from the user and each earphone contains a letter for placement. "L" representing placement for the left side in the case and "R" for the right side to be stored when not in use.

Place your earphones inside the charging case and close the lid. The earphones and case battery status will display. The charging case holds an additional three charges for your earphones. We suggest you place your earphones inside the case when they are not in use. This will allow them to have the maximum charge each time you begin to use them. A green light indicates the battery is between 70-100%, amber indicates 30-69%, and red indicates 1-29%. If the center battery flashes red or does not display, the case battery is depleted.

To charge your case, plug in the USB-C cable into the back of your case and plug the other end into a power source. If you do not have a USB-C power source you can use our supplied USB-C to USB-A adapter to use a USB-A power source. The battery status of the case and earphones will remain visible while the case charges.

Your earphones hold 10 hours of listening time when fully charged.

Your earphones will arrive with the battery level charged to approximately 80%.

Your earphones come with the medium fit wings and medium ear tips attached. Choose the ear tips that form a seal with your ear canal. You may prefer to attach the other fit wings for a more secure fit. To attach, loop the round opening of the fit wing over the ear tip and pull so it fits around the driver enclosure. The smaller opening on the fit wing should surround the proximity sensor area, but leave the proximity sensors exposed. When properly attached, the three charging pads and proximity sensor will be exposed.

You can connect up to one bluetooth device to your earphones at a time.

Simply press the button on your right earphone when paired to your device. You can also answer calls directly from your device when the earphones are paired to the device.

To activate your device's native Voice Assistant when paired to your earphones, just hold the button on your right earphone while placed in-ear.

Yes, you can use your earphones outdoors. Your earphones are rated IPX5 for water resistance, meaning they are sweat proof and protected against splashing water from any direction. Your charging case is rated IPX4 for water resistance, meaning they can withstand light splashes of water. Operate and store your product within the temperature range of -4°F to 113°F (-20°C to 45°C) only. Charge the battery where the temperature is between 41°F and 104°F (5°C and 40°C) only.

Move your device closer to the earphones, as physical objects between the earphones and the source may obstruct the signal.

To clean the outer earphone, you can use a microfiber cloth. Do not use alochol or other cleaning substances on the product. Do not drop, sit on, or allow the earphones to be exposed to extreme water, moisture, or temperatures. Your earphones are IPX5 water resistance rated. Your charging case is IPX4 rated. If your case or earphones are exposed to a significant amount of water or become fully submerged in water, we recommend opening the case, removing the earphones and leaving them out to dry before using them again. It is recommended that you return your earphones to their charging case when not in use. To avoid damage, do not store other items in the canvas case along with your case. Temperature Range Operate and store this product within the temperature range of -4°F to 113°F (-20°C to 45°C) only. Charge the battery where the temperature is between 41°F and 104°F (5°C and 40°C) only.

Yes. Dual microphones in each earphone provide the freedom to listen or talk with just one earphone

If your earphones are no longer paired to each other, please use the following steps to perform a factory reset:

1. Remove both earphones from the case.

2. Quickly press the Volume + (left earphone) AND the Multi-function button (right earphone) 6 times, and hold on the 6th press until you hear the voice prompt announce "factory reset" in both earphones. (This can be done on each earphone separately or simultaneously. We find it's easier to do this on both earphones at the same time).

3. Put both earphones next to each other. The earphones are paired to each other when the LEDs stop flashing and start "breathing" as they usually would when pairing to a bluetooth device.
Master & Dynamic guarantees this product against defects in materials or workmanship for a period of one year from the date of original purchase on our website or from an authorized Master & Dynamic retailer or reseller. As an exception to this warranty period, batteries are guaranteed for proper functioning for a period of one year from the date of original purchase. Defective batteries are covered by Master & Dynamic's Limited Warranty but battery wear from normal use is not covered. If returned within the warranty period, Master & Dynamic will at its discretion either repair the defective product or replace it with a repaired or refurbished product of identical specifications as the returned product. This limited warranty is in lieu of all other warranties, expressed or implied, including, but not limited to, any implied warranty of merchantability or fitness for a particular purpose.
Master & Dynamic shall have no liability of any kind for any direct, indirect, incidental or consequential damages or expenses that arise from the use of this product, including use-related damage to the product's exterior.
Master & Dynamic's Limited Warranty does not cover normal wear and tear to items such as blown drivers, battery degradation from normal use, cut cords, bent jacks, damage to the product's exterior, loss or theft.
Master & Dynamic has partnered with Clyde to allow you to purchase an extended warranty with accidental damage from handling protection coverage for your Master & Dynamic products. 
If you have purchased the Accidental Damage Protection Plan through Clyde and are looking to make a warranty claim, click here. Our Accidental Damage Protection Plan through Clyde can be purchased on our website at checkout or after completing your purchase here. For more details on the coverage offered through our Accidental Damage Protection Plan, click here.
Replaceable parts subject to wear and tear such as ear tips, fit wings and cables, will be replaced only in case of malfunctioning due to material or manufacturing defects, and only once during the warranty period of your product. The serial number and proof of purchase are required in order to enact the warranty for products purchased on our website or from an authorized retailer or reseller. This policy is also applicable to products received as a gift. If we need to replace your earphones due to a battery defect, your earphones will be new or equivalent to new in performance and reliability. You will void your warranty if you disassemble your headphones or expose them to excessive moisture. If you believe your product is defective within the warranty period, please contact us at support@masterdynamic.com. Please include your product's serial number, proof of purchase, telephone number and full return shipping address in your message to us. Conditional to serial number, proof of purchase, and warranty validity, you will be issued a return authorization and instructions for return shipment. Please note that the dispatch of a replacement product will take place after our receipt of the defective product. For questions regarding your product's warranty, please contact Master & Dynamic Support at support@masterdynamic.com.
MW07 PLUS Right Ear Bud
Black Quartz
MW07 PLUS Right Ear Bud
White Marble
MW07 PLUS Right Ear Bud
Steel Blue
MW07 PLUS Right Ear Bud
Tortoiseshell
MW07 PLUS Right Ear Bud
Black Acetate
MW07 PLUS Left Ear Bud
Black Quartz
MW07 PLUS Left Ear Bud
White Marble
MW07 PLUS Left Ear Bud
Steel Blue
MW07 PLUS Left Ear Bud
Tortoiseshell
MW07 PLUS Left Ear Bud
Black Acetate
USB-C to USB-A Charging Cable
USB-C to USB-C Braided Charging Cable