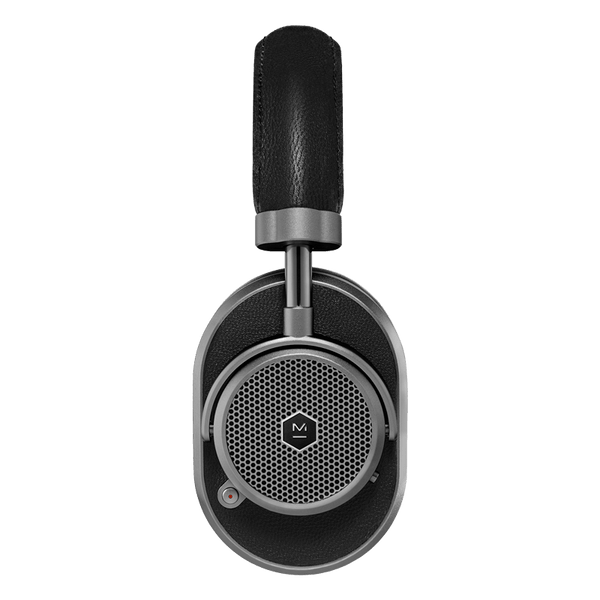 Product Support
MW65
Active Noise-Cancelling Headphones
Manuals and Documentation
Hold the switch in Bluetooth position for 2 seconds. White light will pulse when headphones are in pairing mode. Release. Access Bluetooth settings on your source device. Locate "M&D MW65" and connect. A solid light indicates you are connected.

Enter pairing mode and connect to device 1. Enter pairing mode again and device 1 will disconnect. Connect to device 2 and turn headphone off. Turn headphones on and headphones will automatically connect to device 1 and 2 simultaneously. Pause one device and play from the other to swap headphones connection.

To remove ear pads: gently pull the earpads from the top. The snaps will release. To re-attach ear pads, hook the 2 catches into the slots at the bottom of the earcup. Gently push the earpad against the earcup, ensuring all the snaps are secured.

To clean your leather headphones, simply use a quality leather cleaning solution. When not in use, keep your headphones in the provided carrying case to protect them from dirt and other substances.

Active Noise-Cancellation is an active, electronic method of reducing unwanted ambient sound that adds processed sound to your audio to reduce the perception of ambient noise. Sound isolation is a passive, physical method of reducing external noise that uses optimized materials and designs to reduce the ambient noise that enters through your headphones.

Your headphones arrive in ANC High mode. To switch between modes, press the red ANC button on the left ear cup.

High is recommended for Airplanes, City Streets, or other noisy environments. Low is suited for lower noise or windy environments. Off provides passive noise isolation.

Press the ACTIVE NOISE-CANCELLING (ANC) button + slide the BLUETOOTH® PAIRING switch to position for 5 seconds. LED lights will flash red/white 4x. The headphones will then be reset.

The headphones and device do not pair:
1. Make sure the headphones are not connected to the charger. Cycle power switch off and on.
2. Turn Bluetooth® off, then on again on the source device.
3. Turn off Bluetooth® feature on any other device that is paired with the headphones.
4. Slide switch to and hold until white light flashes.
5. Make sure "M&D MW65" is selected in the Bluetooth® device list

If you experience streaming interruptions when connected to certain devices, it is likely due to a device-specific compatibility issue. To resolve, switch to HANDS FREE MODE and restart the headphones. This will optimize performance for multiple-device connections.

To charge, plug in the USB-C Connector and connect to a USB-C port (or USB-A port using the included adaptor). Please note: you cannot listen while charging.

For airplanes or analog listening, plug 3.5mm audio plug into headphone audio input to engage passive (wired) audio. Headphones power off when audio cable is plugged in. Audio will work even if battery is depleted. Microphone and buttons are disabled during passive mode

MW65 is optimized for the Google Assistant out of the box. To set up Google Assistant with your Android device, you'll get a notification to begin the setup process after you connect your MW65 via Bluetooth. On an iOS device, first make sure your MW65 is connected via Bluetooth. Download and open the Google Assistant app, tap the icon, and follow the on-screen instructions.

To use any other native voice assistant, turn on HANDS FREE MODE by holding the ANC + PLAY/PAUSE buttons for
5 seconds. Repeat to switch back to GOOGLE ASSISTANT MODE.
Master & Dynamic guarantees this product against defects in materials or workmanship for a period of one year from the date of original purchase on our website or from an authorized Master & Dynamic retailer or reseller. As an exception to this warranty period, batteries are guaranteed for proper functioning for a period of one year from the date of original purchase. Defective batteries are covered by Master & Dynamic's Limited Warranty but battery wear from normal use is not covered.
If returned within the warranty period, Master & Dynamic will at its discretion either repair the defective product or replace it with a repaired or refurbished product of identical specifications as the returned product. This limited warranty is in lieu of all other warranties, expressed or implied, including, but not limited to, any implied warranty of merchantability or fitness for a particular purpose.
Master & Dynamic shall have no liability of any kind for any direct, indirect, incidental or consequential damages or expenses that arise from the use of this product, including use-related damage to the product's exterior.
Master & Dynamic has partnered with Clyde to allow you to purchase an extended warranty with accidental damage from handling protection coverage for your Master & Dynamic products. 
If you have purchased the Accidental Damage Protection Plan through Clyde and are looking to make a warranty claim while your manufacturer warranty policy is still valid, please contact support@masterdynamic.com. If you have purchased the Accidental Damage Protection Plan through Clyde and are looking to make a warranty claim after the expiration of the manufacturer warranty policy or a claim for accidental damage, click here. Our Accidental Damage Protection Plan through Clyde can be purchased on our website at checkout or after completing your purchase here. For more details on the coverage offered through our Accidental Damage Protection Plan, click here.
Master & Dynamic's Limited Warranty does not cover normal wear and tear to items such as blown drivers, battery degradation from normal use, cut cords, bent jacks, damage to the product's exterior, loss or theft. Replaceable parts such as ear pads and cables will be replaced only in case of malfunctioning due to material or manufacturing defects, and only once during the warranty period of your product.The serial number and proof of purchase are required in order to enact the warranty for products purchased on our website or from an authorized retailer or reseller. This policy is also applicable to products received as a gift.
If we need to replace your product due to a battery defect, your product will be new or equivalent to new in performance and reliability. You will void your warranty if you disassemble your product or expose them to excessive moisture. If you believe your product is defective within the warranty period, please contact us at support@masterdynamic.com. Please include your product's serial number, proof of purchase, telephone number, and full return shipping address in your message to us. Conditional to serial number, proof of purchase, and warranty validity, you will be issued a return authorization and instructions for return shipment. Please note that the dispatch of a replacement product will take place after our receipt of the defective product. For questions regarding your product's warranty, please contact Master & Dynamic Support at support@masterdynamic.com.
USB-C to USB-A Charging Cable
USB-C to USB-C Braided Charging Cable